"Support within the Democratic Party for President Joe Biden has started to waver regarding his stance on Israel in the midst of its conflict with Hamas. Some members of his own party, including former President Barack Obama, are urging more decisive action to prevent the loss of Palestinian civilian lives.
Biden has been attempting to strike a balance, emphasizing Israel's right to self-defense while also urging Israel to exercise maximum caution. However, Obama, who has generally maintained a low profile since leaving the presidency, made comments over the weekend that appeared to diverge from his former vice president's stance. Biden had publicly expressed support for Israel's Prime Minister Benjamin Netanyahu, while Obama stated, "nobody's hands are clean." According to the Gaza Health Ministry run by Hamas, more than 10,000 Palestinians have lost their lives since Israel initiated a bombing and ground campaign in the Gaza Strip, responding to a surprise Hamas terror attack on October 7 that claimed over 1,400 Israeli lives, as per Israeli officials. Obama stated on "Pod Save America," a podcast hosted by four of his former aides, "If you want to address the issue, you must acknowledge the complete truth and recognize that no one is entirely blameless. All of us, to some extent, are complicit." Obama also commented on the Israeli "occupation" and the "unbearable" conditions faced by Palestinians.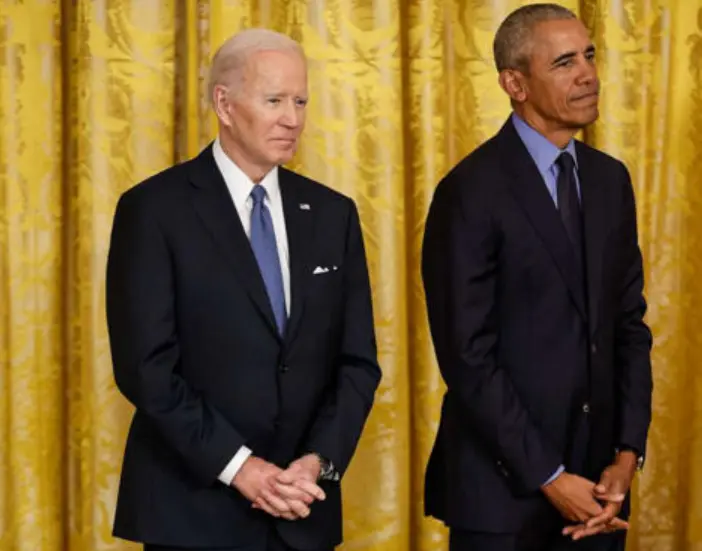 He drew a distinction between Palestinians living in Gaza and the militant group Hamas, which the United States has designated as a terrorist organization, stating that "there are people right now who are dying who have nothing to do with what Hamas did."
While Obama did not directly criticize Biden, his remarks seem to contrast with the Biden administration's strong support for Israel. Biden has expressed unwavering support for Israel, emphasizing the preservation of lives on both sides.
In recent discussions with Netanyahu, Biden assured the United States' continuous support for Israel and declared that the U.S. would stand by Israel "today, tomorrow, and always." He stressed the value of every life involved.
Secretary of State Antony Blinken, on Friday, argued for temporary pauses in the fighting during his in-person meeting with Netanyahu. He asserted that such pauses were crucial for safeguarding civilian lives, allowing humanitarian aid into Gaza, and advancing efforts to secure the release of numerous hostages held in the enclave for almost a month. This outlined the administration's revised strategy for managing the consequences of the conflict.
In response to Obama's comments, a White House official did not directly address whether the former president differed from Biden's position. Instead, the official described Obama's comments as an overview of the "complex history" and why it cannot be "summarized in a social media post."
Democratic Representative Rashida Tlaib from Michigan, who has been vocal in criticizing Biden's approach in Gaza, posted a strongly worded video message. She accused Biden of endorsing a Palestinian "genocide" and called for a cease-fire in the conflict. Although Biden and his administration have refrained from calling for a general cease-fire, they have advocated for humanitarian "pauses" to enable civilians to leave Gaza and for aid to enter.
Tlaib's video concludes with a black screen displaying the words: "Joe Biden supported the genocide of the Palestinian people." It further states, "Biden, support a ceasefire now. Or don't count on us in 2024."
Independent Senator Bernie Sanders, speaking on CNN's "State of the Union" on Sunday, asserted that Israel must halt its bombings, particularly due to the toll it is taking on civilian lives. Sanders acknowledged Israel's right to defend itself but contended that Israel should not be killing thousands of innocent men, women, and children who had no involvement in the initial attack.
Last week, Democratic Senator Chris Murphy from Connecticut decried the unacceptable loss of civilian lives and urged Israel to reconsider its approach, advocating for a more measured and proportionate counterterrorism campaign. He emphasized the need for Israel's friends to recognize that the current approach causes an unacceptable level of harm to civilians and may not achieve the goal of ending the threat from Hamas.
Pro-Palestinian sentiments have been evident at protests throughout the country. Thousands gathered in Washington, D.C., over the weekend to demand a cease-fire and an end to the Gaza Strip's siege. Demonstrators filled the streets of D.C. before assembling outside the White House, chanting "Free, free Palestine."
One of the groups behind the protest, Act Now to Stop War and End Racism, stated on its website that Israel, with strong U.S. government support, is conducting an unprecedented massacre in Gaza. It noted that thousands of Palestinians are losing their lives due to bombs, bullets, and missiles financed by U.S. tax dollars.
As the conflict enters its second month, Americans continue to closely follow developments and hold strong opinions about Biden's role. Recent polls collected by 538 show that about 70% of American adults are closely or somewhat closely following news of the war.
While most polls indicate that Americans tend to side with Israel in the conflict, they also reveal that a majority of Americans disapprove of Biden's handling of the crisis. An SSRS/CNN poll found that only 47% of Americans moderately or greatly trusted Biden to make the right decisions about the situation in Israel. The remaining 53% expressed little to no trust in his decision-making on this matter.
Last week, the House approved an aid package for Israel led by Republicans, offering $14.3 billion in support. However, this bill faces slim chances of becoming law, with Majority Leader Chuck Schumer announcing that the Senate will not take up the House-passed bill. Senate Democrats largely reject the bill's proposal to fund aid by cutting from IRS funding.
Instead, Schumer declared that the Senate will continue working on a more comprehensive package proposed by President Biden. This package is expected to include aid for Israel, Ukraine, Taiwan, and funds for the southern border. The timeline for moving this package to the Senate floor remains uncertain."
Stock market & cryptocurrency financial investments
• Technical analysis, market research, record keeping with various trading tools
• Blockchain, fintech & cryptocurrencies trading, managing…Linkedin